A day with the Snowy Owls – Damon Point
February 3, 2013
We always love a good treasure hunt be it searching for wildflowers or birdwatching. Last year was irruption year – a year where the food sources become low and the young snowy owls fly south in search of better food. They must have found the hunting great because several have returned this year.
I have been following the Tweeters bird email postings on the sitings in the area. The best areas last year and this year have been Boundary Bay in Canada and Damon Point in Ocean Shores. Postings have mentioned seeing 5-9 birds among the grassy dunes.
We headed to the parking area at the south tip of the peninsula. Just past the Marina, you will see to porta-potties and usually several cars parked along grassy sides of the road. Park here. The trail starts off here and goes along the curvy beach. We walked on the west side along the sand looking for the birders. It was a breezy day and there were many kite surfers along the east (bay) side of the spit. We stayed along the shore and could see a group of birders ahead. It was our first owl.
How beautiful. We tried to stay a distance away but everyone was crowded up closer to the bird. Some people recommend staying 150 ft way but it was difficult. He seemed a little stressed looking here and there but stayed perched atop the driftwood.
We moved on down the spit and by now we could spot the owls among the dune grass along with other birders. We stayed and watched two larger birds and saw several flying in the distance. What magnificant birds. Plus the day was warm and sunny. We found our treasure.
After about an hour or so watching the birds (and people) we returned back up the shore and headed home. It was about a 3 hour drive back to Seattle. We were back in time to play with the kittens and have a warm dinner. A wonderful winter weekend at the beach.

Kite Surfers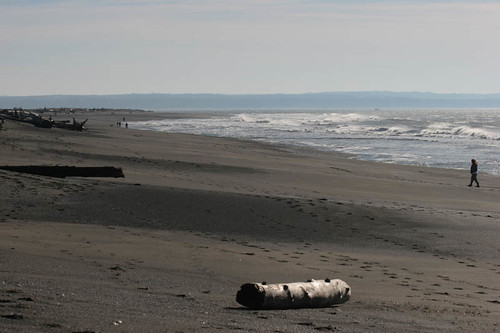 Birders – can you spot the owl?

Two owls in this picture

Fluffing feathers in the sun

Doesn't it look regal? Not the furry talons perfect for snow.