Well, it was a busy fast hot four days in Tucson last week. We wanted to squeeze a trip to the desert since we haven't been there since 2001 and have a chance to do a training hike for Mt. Whitney.
3:00am buzzzzzzz… off goes the alarm and there is no time to hit the snooze alarm. The cats eye us suspiciously… what the heck is going on??? We have a 5:45am flight to catch. Groggly we brush our teeths and make a cup of coffee. I logon the computer and do a web-checkin for America West. By 3:30 the bag is in the car and off we go.
The traffic is light but steady. We make it to the Ajax parking lot shortly after 4:00am. Surpisingly, we are not the only people going to the airport. In fact, the van is full with over 10 people. Wow!
We shuffle up to the America West area. We still have to get in line for a counter agent to check our bag. We are taking our hiking poles and they are not allowed as carry ons so we need to check our bags. We got a new extra large duffle bag 36 inches long which is much bigger than we would normally buy but it is actually working our great for the hiking gear. It doesn't take long to check the bag and it is off for the gate.
But first a stop for some java at Starbucks which is open at 4:30am in the morning. Our flight is at gate B15 – good because there is no line at the B concourse (unlike the 20 minute lines at the B and N concourses for Alaska and United) – bad because it is at the end of the concourse. I pick up a Economist magazine and "The Kalahari Typing School for Men" to read on the plane.
Hubby is doing so-so. He got the flu on Monday and was running a temperature of 102 when I got back from St. Louis on Monday. He is still feely crappy and is not looking forward to a plane ride. But hopefully, the heat will help.
The flight is uneventful and we arrive on time in Phoenix. Already it is about 72 degrees at 9:30am. We grab our bag and head for Alamo to get our car. The plane must have been full with Mariner baseball fans. Everyone seems to be going to the game. The agent is pushy as usual and tries to get us to take insurance, etc. She ended up putting the optional gas on it anyway. I try to refuse but she tells me I can get a refund if I return it full. We end up with a brand new Nissan Sentra with a CD player and a sun roof. All right!
It is off to the Desert Botanical Garden .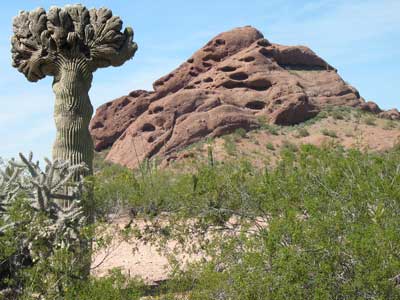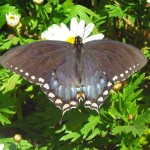 This year there is a new butterfly garden which just opened. Irridescent wings flutter by while a gentle mist cools the garden. We spend about a half hour watching them fly by.
Hunger attacks us and it is soon time for lunch. I did some research on Chowhound and House of Tricks in Tempe sounded like a great place and close by. It is located just off the main street in Tempe. We got there about 1:30 and we were able to get a seat outside in the shade. The menu has several interesting salads and sandwiches. George had the Grilled Tuna on sourdough with grilled onions and sweet pepper aioli. I had the Grilled chicken and green chile on onion roll with jack cheese and cilantro aioli. Both were excellent. We had two microbrews, a Rio Salado Hefeweisen and a Stone brewery Pale Ale. Both were just right for the warm afternoon.
We headed off for Boyce Thompson Arboretum but the traffic was slow. By time we got to Florence Junction it was 4pm and we realized it was probably too late so we headed on to Tucson. Hubby also needed rest since he was still fighting the cold and flu. We drove along Pinal Pioneer Highway hoping to see some wildflowers but only a few scatterings of lupine. Soon the Pusch Ridge outline of the Santa Catalinas were looming in the horizon and we were in the outskirts of Tucson.
We checked into the Ghost Ranch Lodge which is one of our favorite places to stay. The neighborhood continues to go downhill with a strip joint just down the street but it is clean, quiet and gated. Our kitchenette was at the far end and totally funky. The one main room with dark wood beamed ceiling had a SW motif. Two doors opened off the room. One went to a small fully equiped kitchen with a full refrigerator, full stove and oven, sink and microwave. There were adequate cooking supplies for two people. The other door lead to a walk-in closet with a small bathroom off the side. Definitely very comfortable and useful for two days of hiking.
We rested a bit and headed for the nearest store which was a Basha's at Flowing Wells and Roger. We got supplies for sandwiches, water, beer, orange juice and fixings for a salad. We would eat in this evening since we were tired.
We discussed the plans for the next day and decided to switch our hiking day from Friday to Saturday to give George another day to recover from his cold and a day to rest. We were fading fast and it was off to bed.