Rigatoni with Cauliflower in Spicy Pink Sauce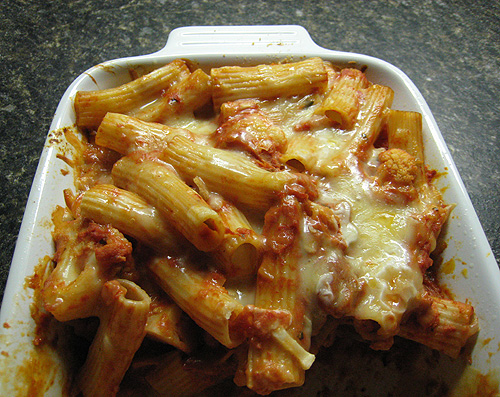 I needed some comfort food tonight. I love baked pasta dishes. I found this recipe a while ago in Fine Cooking. I really like the flavor of cauliflower in the dish. It is nutty and goes really well with the flavor of the Fontina cheese.
I've modified the original recipe to reduce the amount the dish serves. The original makes a large amount that is too much for just two people so I cut the original in half. I've also adapted it to use prepared marinara sauce. I make large batches of marinara sauce and store it in the freezer in one cup containers.
One variation that I've considered is to add a few capers and I often make it a bit spicer by adding an additional 1/4 tsp of pepper flakes. You might also add a bit more cheese if you like it richer.
Rigatoni with cauliflower in spicy pink sauce
From Fine Cooking
2 cups Marinara sauce
1/4 cup heavy cream
1/4 tsp crushed red pepper flakes
1/2 lb rigatoni
2 cups cauliflower florets, cut into 1 to 1 1/2 inch pieces
1 cup shredded Fontina
1/4 cup grated Parmigiano-Reggiano
Heat oven to 450 degrees. Lightly grease a 7×11 inch baking pan with olive oil.
Combine the marinara sauce and cream in a large sauce pan. Bring to a boil over medium high heat and reduce to a gentle simmer. Cook for about 10 minutes until thickened. Add pepper flakes and cook for an additional 5 minutes.
Meanwhile bring a large pot of salted water to boil. Add rigatoni and cook about 10 minutes until it is al dente. Remove the pasta with a slotted spoon and add to the sauce. Add the cauliflower to the pasta water and cook until barely tender – about 2 minutes. Drain and add to the sauce.
Add 1/2 of the fontina to the pasta mixture and toss. Transfer to the prepared baking pan and spread evenly. Top with the remaining fontina and the parmigiano.
Bake uncovered until the cheese is golden brown – about 15 minutes. Let rest about 5 minutes and serve.