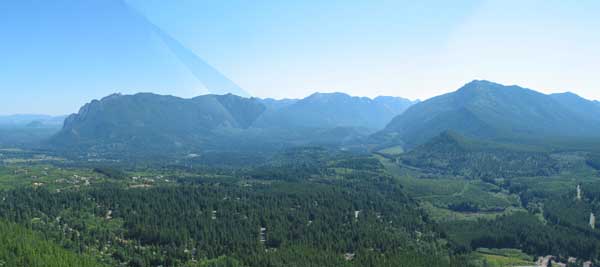 Okay… so we didn't get enough with the Miller Loop. It was originally going to be the Richmond Beach stairs again but the day was so nice we decided to check out the new trail up to Rattlesnake Ledge.
We got an early start hoping to beat the hordes of families going up on Fathers Day and the heat. We made the trail head by 10:00 and headed up.
You can tell it is a new trail right off. The usual suspects of roots and rocks are gone as it swings a bit more towards the north. It has a gentler angle but still isn't too bad; 2 miles, 1100ft to the ledge.
To get a good workout I picked up the pace. Without rocks and roots, you can really get going up the hill. Forty-Five minutes later we were at the ledge! Much better time. We scarfed down a couple of Luna bars and headed down. The families were out and we made frequent stops allowing the uphill climbers to come up. By 1pm we were back at home and working in the garden.